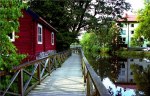 A priceworthy alternative less than 10 minutes walk to the center of Köping.
Here you stay in a hotel standard rooms and sleep in comfortable beds from Stjärnbädden .
Bed-linen, towels, daily cleaning and self-service breakfast is included.
At our hotel our guests have free access to the kitchen. It means that you may help yourself from fridge and pantry, and it also gives you the opportunity to take an evening snack if you wish.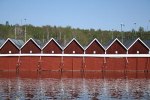 Here, you feel that you stay in hotels but still have that feeling of being at home, so you can relax and be yourself.